Security Project - Ontario
Scotia Plaza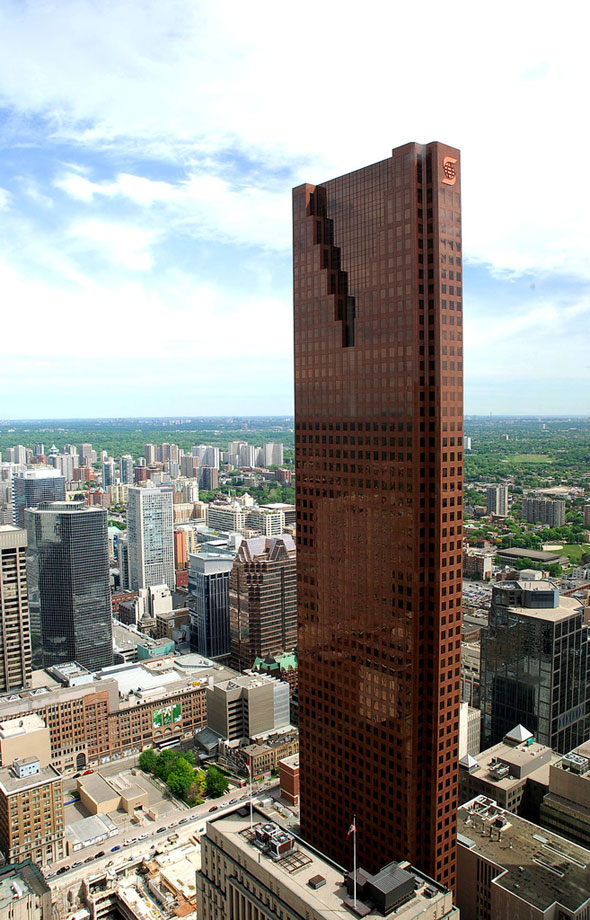 A thriving business community in the heart of Canada's most dynamic city
Rising 68 storeys at the very centre of Toronto's Financial Core, Scotia Plaza is a defining fixture of the City's skyline and a thriving business community. With its bold and distinctive design and innovative use of interior spaces, Scotia Plaza creates a sophisticated environment for business success.
A rich history, a bright future
For over 100 years, the four corners at King and Bay have been at the centre of business. Today, this historic intersection continues to be Canada's most prestigious global business address and home to Scotia Plaza. Designed by acclaimed WZMH Architects, Scotia Plaza brilliantly blends Toronto's business history with the best of modernistic design. Its striking exterior is matched only by its inspiring and innovative use of interior spaces. A bold 130 foot tall atrium seamlessly merges the historic Beaux Arts Bank of Nova Scotia Building built in 1946 to the modern 68 storey tower and the grand lobby that was constructed in 1985 and runs the full length of the complex. With a rich history and an even brighter future, Scotia Plaza continues to innovate and evolve to best serve the needs of Canadian business.
At the centre of Toronto's business community
Located at King and Bay in the heart of downtown Toronto, Scotia Plaza serves as a major hub for the City's PATH network. With over 17 kilometres of underground walkways, the PATH conveniently connects Scotia Plaza tenants to a vibrant downtown business community, an array of city-wide transit options, over 1,000 retail shops and services, major hotels, restaurants and world-class entertainment and sporting venues.
Service and convenience right at your front door
With over 40 quality shops and services available and a 550 seat international food court, the tenants of Scotia Plaza have direct access to a wide selection of amenities without having to leave the building. And with Scotia Plaza's central location on Toronto's PATH system, tenants are conveniently connected to a world of transit, shopping, dining and entertainment options.
Secure 24 hour underground parking is available for tenants and visitors 7 days a week with access off Adelaide Street. Hourly, daily and monthly rates are available. Valet parking and Electric Vehicle charging stations are also available.
Scotia Plaza child care facility has capacity for 60 children available on-site. Ages accepted range from infant to five years for full or part-time care.
Click here for more information